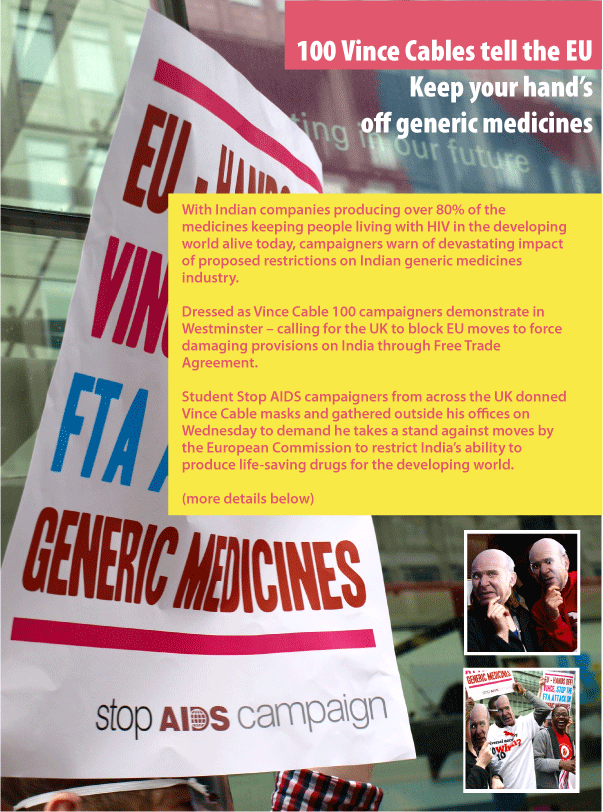 Campaigners say Data Exclusivity and other terms included in the proposed agreement could threaten the supply of affordable medicines India currently provides to the developing world. With over 80% of the HIV medicines currently keeping people living with HIV in developing countries alive, they claim the FTA has the potential to have a devastating impact on the health of the world's poor. This argument was recently supported by Hans Hogerzeil the Director of Medicines Policy and Standards at the World Health Organisation.
Stop AIDS Campaign coordinator, Diarmaid McDonald said:
"This EU attack on the health of poor people in India and around the world is utterly unacceptable. It is a shameful drive to edge up pharmaceutical profits at the expense of vulnerable people across Africa and Asia. The UK has a strong tradition of protecting the rights of these people and it is essential Vince Cable continues this by demanding the EU stops pressing for Data Exclusivity and other harmful provisions in this FTA."
Data Exclusivity could lead to delays of up to ten years in the availability of affordable generic drugs. India has very carefully balanced the need to protect intellectual property with the public health needs of its people, but Data Exclusivity would undermine the very restrictions which ensure people's health comes before profit.
New drugs need to go through clinical trials to prove their safety and efficacy. Currently generic manufacturers can legally produce more affordable versions of drugs by proving that their drug is chemically and biologically equivalent to the original version. They do not have to repeat the trials that prove that the medicines itself is safe and efficacious since the regulatory authority approving the drug can see this from the results of the original clinical trial. Data exclusivity would mean the trial data would be exclusive to the company who ran the trial, and regulatory authorities would have to ask the second company to repeat the same trials to prove something that is already known. With the costs of running trials prohibitively expensive this essentially acts as another barrier to affordable new medicines for up to ten years.
Lotti Rutter of the Student Stop AIDS Campaign said:
"India is known as the pharmacy of the world. This FTA could damage the health of millions of people, delaying the introduction of vital medicines at affordable prices. Data exclusivity is also totally ethically unacceptable as it could force companies to re-run clinical trials with real patients – risking the health of the a control group – to prove something we already know.
"It is essential the UK and Vince Cable are vocal about their opposition to this in public and in the private negotiations."
> CLICK HERE to support the MSF Action 'EUROPE! HANDS OFF OUR MEDICINE